Top 7 Online Digital Marketing Trends That Will Dominate 2020!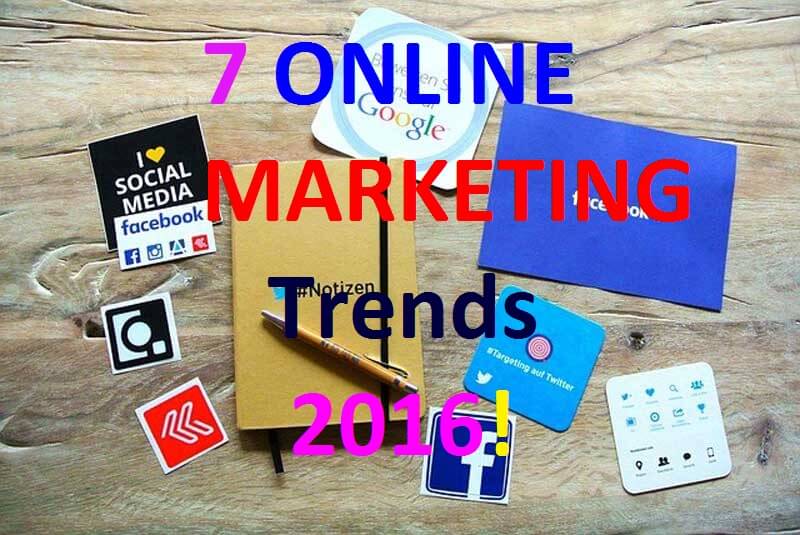 It's not new to us that digital market is an evolving world where new technologies take over the trends every year. It is important always to adopt the latest technology and development so as to stand the competition in the market and as well increase the sales of your products.Here we have selected Top 7 Online Digital Marketing Trends That Will Dominate 2020`s Digital Marketing. Today we have different sectors like pharmacy, healthcare, hospitality where emerging trends in digital marketing will work like a boom.
There are lot more new trends in digital marketing which has changed the ways of doing business. Today there are a lot of B2B  digital marketing trends such that 80% of the industry is using these new ways of Digital Marketing. Most advertisers in China would raise their budget for mobile advertising in 2020; 45% for SmartTV; a mere 12% for regular online ads on the desktop such that they will invest more on these latest digital marketing trends. Social media videos, mobile videos are the big source for mobile ads in 2020.
Top 7 Online Digital Marketing Trends That Will Dominate 2020`s Digital Marketing
1. Increase in Video Ads – Key Trends in Digital Marketing
Video Ads are going to take over online marketing in 2020. Although it is not new as Facebook, Twitter and Bing have been offering video Ads since the last couple of years, and even Google now offers video content in its search algorithm. Video advertising option is expected to increase efficiency in 2020 as it's now generally accepted by the public.
Hidden Feature – How to get more Ads on YouTube videos? Make money with YouTube channel quickly
2. Mobiles Will Completely Take Over From Desktops – Global Digital Marketing Trends
The world of technology and online digital marketing has experienced the trend of seeing the usage of mobile devices over desktop devices in last few years. The advent of Smartphones and tablets has led to an increase in the number of people browsing the web on mobile devices above that of desktop devices. The latest update by Google on their search engine algorithm is an advantage to mobile-friendly websites, and they list it in the top search engine list. It is obvious that mobile devices will dominate latest digital marketing trends in 2020.
How to access remote desktop via wifi using android mobile or android tv without internet
3. Email Will Still Remain Relevant – Biggest Trends in Digital Marketing
The advancement of email to mobile is a sign it will remain dominant in digital marketing as it is obvious that mobile devices are taking over from the desktop. Users send Automated Email messages because of its easy accessibility since it's on mobile devices. Email, as it has always been an effective tool for the digital marketer to reaching their clients. This year also it would still continue to be used in marketing strategies. This one is one of the recent trends in digital marketing
U.S. Post Office Will Debut Digital Mail Previews
Social media top the list of online activity, especially with the increase in the use of mobile devices. The new array of advert options for brands launched by Facebook previous year has made it a real opportunity for the marketer to generate revenue. Other social media are coming up with real opportunities to meet customers which mean marketer doesn't need to go elsewhere to promote their business.
Online Marketing-Free Training Course From Google|Hindi| Digital marketing|Social Media Marketing
5. Content Marketing Will Remain Relevant – Digital Marketing Current Trends
Writing content about your products and services will become very important in 2020 for you to sell more. Customers have interest in knowing why they should go for a product so they will be attracted to a business that can tell more stories either by writing, video or pictures. Quality contents will maintain digital positioning and increase sales as well. A business with a blog stands higher chances of sales than those without the blog. So, We expect that having a blog will dominate digital marketing in 2020.
How Video Content Marketing Can Grow Your Business – Kenny and Travis from Kajabi Interview
6. Wearable Technology Will Emerge – B2B Digital Marketing Trends
Wearable technology has just started taking over the technology world, and we can expect that they will take over the trend of digital marketing in 2020. The advent of Google Glass and Apple watches last year and other tech giants coming up with similar technology are a sign it might take over in digital marketing in 2020.
Next Future Wearable Technology Will Blow Your Mind
7. Explosion of Apps – New Trends Digital Marketing
Apps are going to take the day in 2020 as there is an expected explosion of apps. Presently we can see that almost everything has a mobile app. Digital marketing will need to use that medium to reach more customers as mobile devices are taking the day. We expect that these apps would take over from the mobile-friendly website. Though it is doing good work to get a higher rank on the search engines.
Electric Power Plant Explosion Caught On Camera
These are not all the online marketing trends that will dominate in 2020, but they top the list of the predicted trends to rule the day in 2020. So be ready to maximise the opportunities available for you to boost your sales.
You may also interested in below articles
Prodigious Internet Marketing Women From Grass to Grace to Glory
WordPress: The Perfect Solution for Business -100 Reasons Why WordPress is Good for Business
The Ultimate Guide to Outsourcing with Fiverr for you Only
For the future of Digital MArketing, you can see the video below on The Future of Marketing: Online Digital Marketing Trends to Watch in 2020