5 Best 3D Printing Business Ideas – How to Start Your Own 3D Printing Business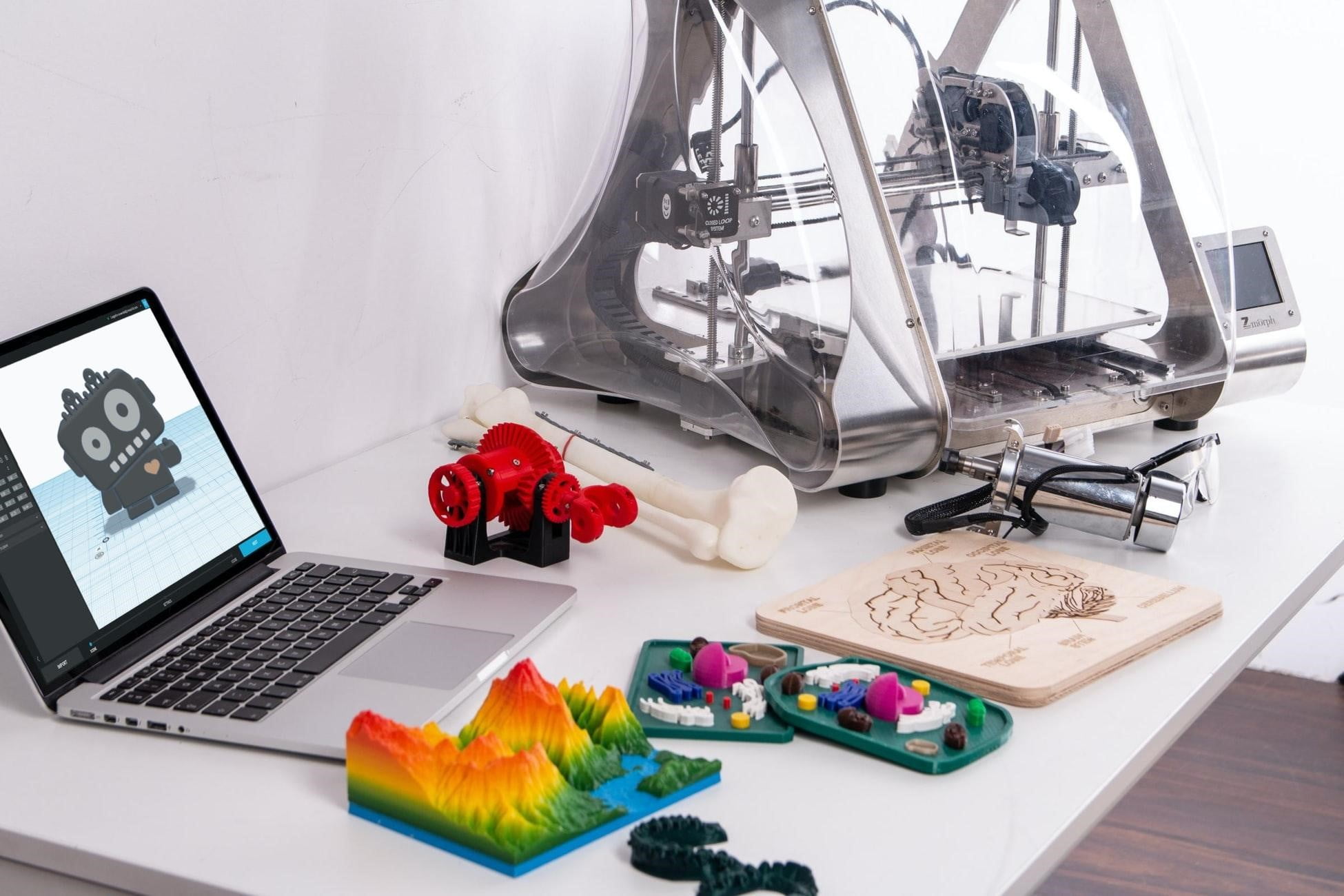 Are you looking for 3D printing business ideas? Suppose you have extensive drawings for a robot prototype, personalized eyewear, or designer toy. In that case, 3D printing allows you to make these designs a reality. Starting your own 3D printing business might be a great way to combine your technological and creative talents and turn them into a profit.
According to 3D printing expert and author Joe Micallef, "What separates 3D printing from other manufacturing technology is that it is readily available, allowing anyone with the ability to turn their ideas into actual objects, pieces, tools, and works of art."
Here we'll teach you how to start and run a 3D printing business.
Requirements to Start a 3D Printing Business
Software
There is a lot of excellent free and open-source software online. You may be able to complete the first few projects using online free software. However, as your company grows, you should invest in at least a one-year license for 3D modeling software with 3D printing capabilities.
Thermoplastic filament
Materials play an essential role in the construction of your 3D creations. Consider how vital power, reliability, and level of detail are to what you'll be creating. It is important to note that there is typically a tradeoff between power and durability.
You should pick a material that is solid, flexible, and compatible with your printer. The thermoplastic plastic is the popular material in 3d printing, with polylactic acid (PLA) and acrylonitrile butadiene styrene (ABS) being the most common types. The filament is available in various colors on spools, usually in 1.75mm or 3mm thickness.
3D printer
Image: https://images.unsplash.com/photo-1603380353725-f8a4d39cc41e?ixlib=rb-1.2.1&ixid=MXwxMjA3fDB8MHxwaG90by1wYWdlfHx8fGVufDB8fHw%3D&auto=format&fit=crop&w=1950&q=80
Although outsourcing your creations to a third-party 3D printing vendor is an option, getting an in-house printer helps you turn projects around more quickly. There are many 3D printers to choose from, and it takes time to print 3D objects. If you plan on producing a high volume of one form of design and want to speed up output, look for printers with a faster processing speed.
Plastic is the most common material for 3D printing, but a few customizations can make objects out of other materials.
If your items have little data, the majority of printers will suffice. Consider buying a stereolithographic (SL) printer if your designs need a high degree of detail. This printer employs a photosensitive resin and a UV laser to create a high-resolution mode.
Suppose you're looking to print smaller pieces. In that case, entry-level fused deposition manufacturing (FDM) printers can create artifacts up to 4″ in diameter. For larger creations, you'll want to invest in a high-end filament printer that can print items up to 10″ x 6″ x 6″.
Sample Materials
Suppose you're still undecided about what kind of material to use to make your designs. In that case, you can experiment with a few different materials before making a final decision. Aside from thermoplastic, you can also create 3D objects out of sandstone, metals, and ceramics. Printing with non-plastic materials is called experimental, so expect a mixed bag of outcomes.
Education
Take a 3D animation course to invest in yourself and your career. You can take classes online or at visual effects tech school if one is available in your city. Perhaps there is a field in which you think you might develop, such as modeling or texture, or you simply want to remain current with 3D animation technology. Regardless, honing these skills in a learning atmosphere can only help your company expand.
3D Printing Business Ideas
3D Print on Demand
Many companies have created services that help consumers customize different materials through software. Once they complete their designs, they send them to your company and get them printed. 3D print on demand means you only manufacture the products once the client sends you over their finished design. This business is great because there is less effort on your part, and you don't need to have significant capital to start.
3D Printer Setting Service Center
Image: https://unsplash.com/photos/XsXFYFcJ0-I
When the 3D printing industry increases, so will the market for dependable repair and maintenance services. Create your repair and maintenance shop where you can repair and maintain 3D printers and prints.
This 3D printing business idea requires you two critical things: knowledge and knowledgeable employees. You should train your staff and license them to understand the ins and outs of a 3D printer. This training is crucial so they can fix, repair, and customize the settings of your customer's 3D printer.
Outsource Your 3D Design Services
Want to go a step further and set up a shop that manages the whole process? Customers will come in and ask about what they want you to print for this business plan. You can design what they have in mind and have it 3D printed.
Since the whole process can be very costly, you can most likely grow quicker if you target business-to-business customers or those looking to get started with a new prototype.
For example, you are just starting with your business and only own one 3D printer. Why not outsource your 3D design services? It requires not only technical skills but also artistic talent. A 3D design does need not only accuracy in shape and form but also aesthetics. There aren't so many 3D printer artists, so this can be an excellent opportunity for you to become one of the pioneers in the 3D printing industry.
When you outsource your 3D modeling service, you're getting quality output while saving your business costs.
Sell Customized 3D Printed Products
Designers use 3D printers to scale concept models and prototypes quickly, but they're also increasingly being used to produce finished goods. Shoe designs, furniture, wax castings for jewelry, equipment, tripods, gift and novelty pieces, and toys are among the items created with 3D printers.
With a 3D printer, the possibilities are endless! It's as endless as one's imagination! You can sell customized 3D printed products such as:
Customized collectibles and toys
Customized collectibles and figures of their favorite cartoon characters, artists, and gamer avatars are common. Only make sure to double-check all licenses if you want to use this for commercial purposes. On the other hand, there is a demand for personalized figures of individuals, such as someone posing in workout clothes or their player model.
Prosthetics and Medical Instruments
Prosthetics are costly and challenging to produce. 3D printing addresses these several issues in the medical industry. It improves, customizes, and lowers the cost of prosthetics. Furthermore, 3D printing is making it easier to make wheelchairs and other mobility aids.
Customized Jewellery
Imagine customers wearing their jewelry design made using your 3D printer? They can send in natural materials such as gems, diamonds, rubies, etc. Then combine it with commonly used materials using a 3D printer! It's a fantastic idea for entrepreneurs too.
Sell 3D Printer and Materials
If you're not into manufacturing, why not sell 3D printers and the materials for use. Find a reputable supplier of 3D printing machines, get them for wholesale and sell the 3D printers and materials at retail cost. Want to start at an even lower cost? Dropshipping! Re-sell those 3D printers without having to shell off your own money.
Conclusion
Even though it is still young and fresh on the market, the 3D printing company is a whole field in the industry that is already very lucrative and generates a lot of revenue. The cost of starting a 3D printing company, on the other hand, ranges from $1,000 to $10,000. The type of 3D printer you choose and utilities, rent (if you do not work from home), software, and marketing will affect your starting cost.
Since 3D printing business models are very positive, the 3D printing business has a high likelihood of bringing you income and a small fortune.