Best 3 Free Ways to Create a DVD for a DVD Player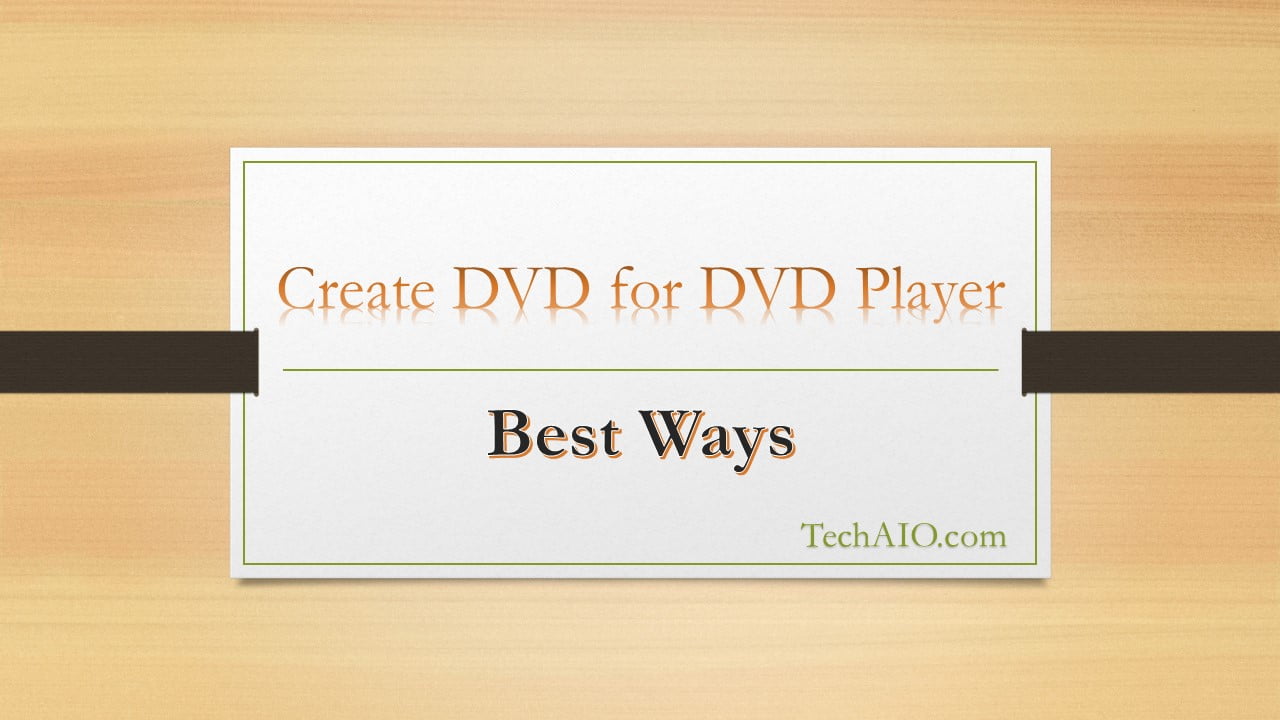 Do you want to show your family a video you shot during your previous vacation?  It might be too big to be sent by email! Or do you just want to make a copy of the video and watch it on your DVD player? If your answer is yes, then you are in the right place. Here are three simple tools that will help you do it. They don't require any special tech knowledge. Just choose the one you like and start burning your discs right away. Lets' start.
--- Before Para 1 ---
--- Before Para 1 ---
DVDStyler is a free program for creating professional DVDs. This tool allows you to burn video files to DVD and create individual DVD menus. The created DVDs can be played on almost any DVD player. DVDStyler is a cross-platform application – runs on Windows, Linux and Mac OS X.
DVDStyler functionality includes:
Support for most popular video formats like AVI, ASF, FLV, MOV, MJPEG, MP4, MPEG, OGG, WMV, QuickTime, etc.
Possibility to use MPEG and VOB files without transcoding.
Sections support. It means that you can record files with different audio and video formats on a single DVD.
The ability to create individually designed DVD menus based on vector graphics or choose from a list of ready options.
An option to add a custom image as a background for your DVD menu.
The user interface of the visual menu editor supports drag-and-drop. You can select buttons, text, images, and other graphical elements and place them anywhere on the DVD menu by simply dragging them with the mouse.
The option to change the font, color, size, and other properties of menu items.
The ability to copy any menu item or the entire menu.
The possibility to save unfinished projects.
The option to create a photo slideshow.
All in all, DVDStyler is an excellent software but has too many options you might not need at all. If you need a simpler tool, go for the next one.
Freemake Video Converter is a free video file converter. It accepts over 500 media formats for input and converts videos and audio files to AVI, MP4, MKV, MPEG, MP3, FLV, DVD, and other formats. Freemake Video Converter comes with a built-in video editor that you can use to join, cut or rotate movies before burning them to DVD. Besides that, it can convert audio files and video files to MP3 and create a slideshow from images and a music track.
The main advantages of the software:
Supports over 500 different input file formats. For example, you can burn AVI to DVD, MKV to DVD, and so on.
The program can burn DVD and Blu-ray, save movies as VIDEO_TS folder, ISO image or burn to disc right away.
Built-in option to automatically create menus for DVDs.
Built-in editor.
Option to add custom audio track.
Option to add subtitles.
Saves unfinished projects.
To cut a long story short, Freemake Video Converter is a perfect tool for all those who just need to burn movies to DVD and watch the ready disk on any DVD player. It's easy-to-use and provides high-quality results.
--- After 0.5 ---
--- After 0.5 ---
One more software worth mentioning is DVD Flick. It's a simple and powerful free program for burning videos to DVD.
The tool allows you to create a DVD from one or several video files that can be played on a DVD player, in a media center, or a home theater.
--- After 0.8 ---
--- After 0.8 ---
DVD Flick features:
Supports more than 45 file formats – 4XM, ADTS AAC, American Laser Games, ASF, WMV, AVI, AVS, Bethsoft VID, C93, CIN, Creative VOC, CRYO APC, DV, DXA, EA Multimedia, FLIC format, SWF, GXF, MVE, Macromedia Flash, Matroska, MPEG audio, MPEG-1, MPEG-2, PS, TS, MPEG-4, MXF, NSV, QuickTime, Raw AC3, Raw CRI, ADX audio, Raw MJPEG, Raw MPEG video, Raw MPEG4 video, Raw PCM, Real Media, VMD, AU, WAV, WC3, VQA, AUD, MVI.
Supports over 60 video codecs.
Supports over 40 audio codecs.
Provides an option to add additional custom audio tracks.
Saves projects for future use.
Creates the file structure of a DVD and allows you to create an ISO image or burn a DVD immediately.
Subtitles support.
Provides an option to create menus for DVD with settings and previews.
DVD Flick is a nice tool for burning a simple DVD. Unfortunately, the input formats support is not huge. Thus if you have a file in a rare format, you will need to choose another software.
Now you know what software to use to burn your favorite movies onto DVD. Which tool to choose should be your decision. Personally, I'd go for Freemake due to its simplicity of use, multiple formats support and basic editing options. Hope this article was helpful. Don't forget to share it with friends.
--- After Content ---
--- After Content ---