5 of the Best FPV Drones on the Market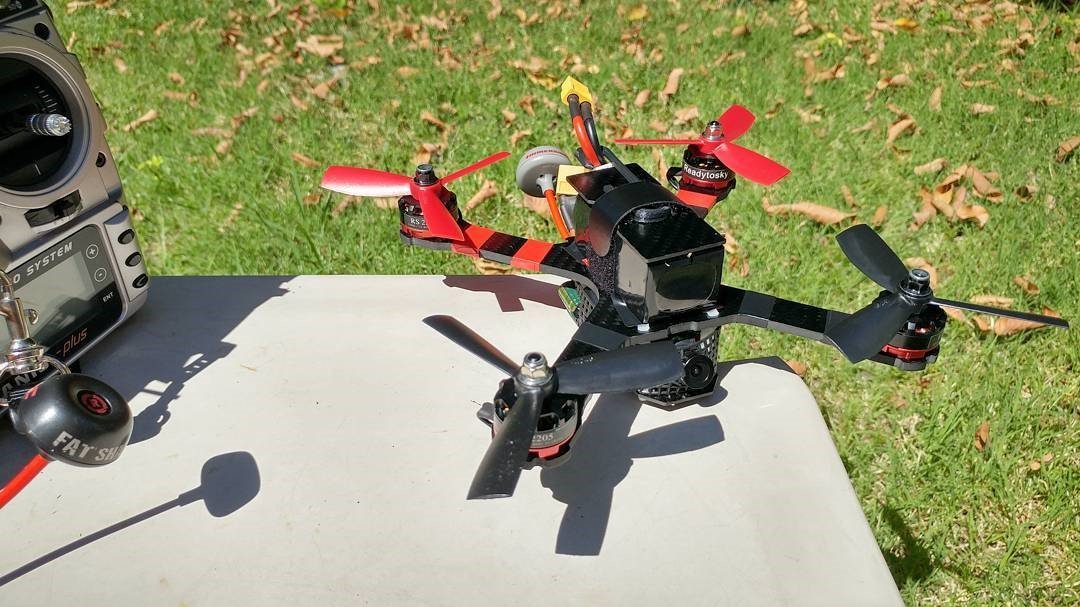 Although it is a relatively new concept, FPV piloting (first-person view flying) has gained tons of supporters – from beginners who don't know a thing about spins to die-hard pros racing their drones to exhaustion. In this article, you're going to find the best FPV drones that money can buy as well as a brief description of their features.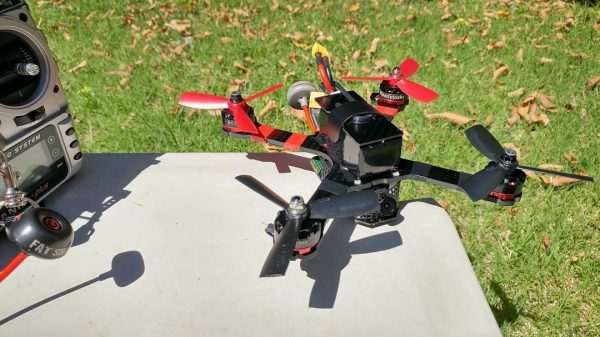 1. UDI U818A FPV
The first item on the list is UDI's U818A drone, an FPV-ready UAV with quite a bite. Sporting out four brush motors, this bad boy has a range of 50-100 m and can stay up for 10 minutes.
For die-hard drone fans, the U818A FPV touts a dual-action flight mode, making the quad the perfect choice for racing.
As far as its FPV capabilities are concerned, UDI's quadcopter can pair well with low-profile or box FPV goggles. Its ventral HD camera can render videos at a resolution of 1280×720 and 30 fps.
For unforgettable vacation shots, we recommend the extra 4GB SD card and, of course, a spare Lithium-Polymer battery.
The UDI 818A FPV costs between $80 and $100, depending on the retailer and kit.
2. Walkera Rodeo 110 Racing Drone with Devo 7 Pro Racer Park – RTF Version
Walkera's Rodeo racing drone is both eye candy and a robust UAV. Its carbon fiber chassis allows the user to fly the drone under any weather condition. Although the flight time is not impressive (6 to 7 minutes), the Rodeo 110 Racing has a range autonomy of 500 meters.
From an FPV standpoint, the drone's DEVO 7 audio/video RF transmitters ensure a 720p video quality, even at a range of 100 meters.
Walkera's Rodeo 110 Racing drone is kept in the air by four brushless motors, powered by a 7.4V 850mAh 25C 2S Lithium-Polymer battery.
Its motor power generates enough heat to ensure proper operation even at minus 10 degrees Celsius. This drone can be purchased for $150 (the FPV kit is not included).
For more information on FPV-compatible drones or tutorials on how to attach a pair of goggles to your drone, be sure to visit Droneista.com.
3. Rise Vusion 250 Extreme RTF FPV
Vusion's Rise is a one-of-a-kind racing/FPV drone since all its parts are 3D-printed. Though its appearance can be a bit deceiving (it looks more like a child's toy than a professional racing drone), the Vusion 250 Extreme FPV was designed for high altitudes and extended flight periods (up to 10 minutes).
Vusion's kit includes all the FPV gadgets – a 4.3-inch, 5.8GHz LCD monitor on the remote that can cover a range of 500 meters thanks to its TACZ5152 omnidirectional antenna, and a pair of FPV goggles.
Vusion's camera can shoot pics at 2MP. Video rendering remains at 1280x720p for the internal camera and at 640x480p VGA for the external camera. Readymade clips can be played at 30 fps. In addition, you can transfer your footage to a microSD card.
The Rise Vusion Extreme FPV pack costs around $350, making it one of the most expensive FPV drones on our top five list.
4. ARRIS X-Speed 250B V2 FPV
The ARRIS X-Speed 250B V2 is for FPV drones what Arduino is for open-source computing – a highly versatile and customizable flying platform that is both robust and impressive. Its foldable body is made of a 1.5mm carbon and glass fiber composite sheet, guaranteed to withstand the most adverse weather conditions or an unexperimented user.
At the heart of the ARRIS stands a Raptor 390 Tower w/30A 4-in-1 ESC+F3+OSD+PDB motherboard, that can support any kind of macro function after some quick coding.
Although it sports some pretty impressive functions, the ARRIS X-Speed weighs only 22grams, measuring 15.1 mm in length.
The quadcopter is powered by an ARRIS 4S 1500mAh Lithium-Polymer battery, with an estimated hovering time of 12 minutes.
The drone is outfitted with a 700TVL HD video camera attached to the UAV via a carbon fiber vibration damper plate. The high-definition camera is fully adjustable, having a tilt angle of 45 degrees.
The ARRIS X-Speed 250B V2 has one of the best cameras on the market. Weighing only 13grams, the camera can shoot movies in 967X582p quality and pictures in 976x494p, at 30 fps.
The drone's price tag is $300, depending on the retailer. The FPV goggles are sold separately.
5. Parrot Bebop 2 FPV
The last item on our list is Parrot's Bebop 2, the company's FPV and aerial photography flagship. In some respects, Parrot has revolutionized the drone technology just as much as DJI did with its Phantom 3. Their years-long experience led to the creation of Bebop 2, a quadcopter whose design could be dethroned only by Apple.
The Bebop 2 is powered by a 2700mAh Lithium-Polymer proprietary battery that can keep the motors running for approximately 25 minutes. Bebop's two lens system has a 180-degree field of view, and it is highly adjustable.
And now comes the sweet part aka the drone's imaging sensor. Bebop 2's ventral camera has a 14MP imaging sensor, more than capable of shooting in 1080p at 30 frames per second. The pics can easily be exported to its 8GB flash memory in RAW, JPEG, or DNG formats.
Parrot's impressive 'follow-me' function allows the drone to keep an 'eye' on the person holding the remote control.
If that wasn't enough to convince you, then maybe BEPOP 2's SKYCONTROLLER 2 5 GHz Wi-Fi RC control will. Paired with the Parrot Cockpitglasses, Bebop 2 becomes the ultimate experience for FPV junkies.
The drone's only caveat and the reason why it's not our number 1 pick is its price. Depending on the retailer, the Parrot Bebop 2 could cost anywhere from $500 to $600.
Conclusion
Unfortunately, this is the end of our top 5 best FPV drones. Don't forget to tell us about your experience with your first FPV drone. One more thing before you go – take your time when calibrating the FPV goggles. Those into VR gaming know that the most painful part of setting up an FPV console is adjusting the lenses until the picture is clear.