Tips for Creating Successful Videos on Instagram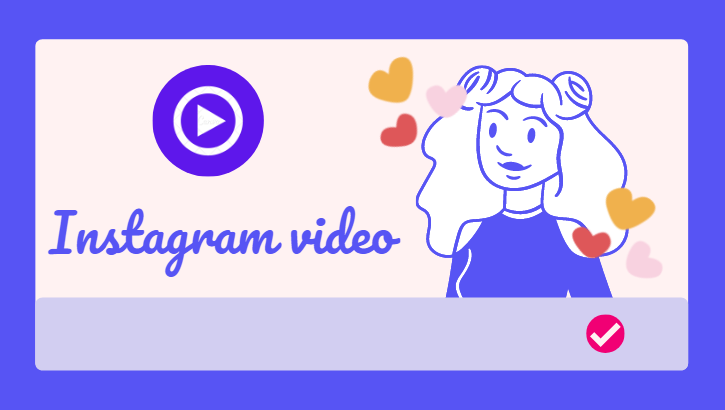 Since launching in 2016, Instagram Stories have revolutionized the way users interface with the platform. Ideal for creating engagement, building brand awareness and driving traffic to a website, Stories are a tool widely used by many companies: from multinational companies to local ones.
--- Before Para 1 ---
--- Before Para 1 ---
Here are the technical characteristics of Instagram Stories:
Format: MP4;
Length: from 1 second to 15 seconds;
Orientation: square, portrait and landscape format;
Aspect ratio: a minimum of 1.91: 1 up to a maximum of 9:16.
How can I upload the Stories?
Just like for video posts, there are various ways.
1. Shoot the video directly from Instagram Stories:
It is possible to shoot a story using the Instagram interface directly. The video can be shot in various modes and filters can be applied. Once the registration is complete, you can add other elements: GIFs, text, stickers. When you are satisfied, you can then proceed with sharing.
2. Upload a pre-recorded video on Instagram Stories
Even for Instagram Stories, it is possible to upload videos from the smartphone gallery. However, remember that stories cannot exceed the maximum length of 15 seconds. If the video we are trying to upload is longer, it will be automatically split into sequences by Instagram itself. Also, in this case, it is possible to personalize the video with stickers or other elements.
3. Program Instagram Stories with Later
We have already seen how Later is an excellent tool for scheduling video posting. Well, its features can also be extended to Stories to give life to marketing campaigns with attention to the smallest details.
Tips for making great Instagram videos
What videos to post on Instagram Stories? With Instagram Story, freedom, creativity and innovation are the keywords. When posting a story, it is good to keep in mind your target and your brand's image, but without being afraid to dare. For example, if it fits your corporate image, don't be afraid to post something silly and irreverent. So how are original and compelling Instagram videos made? Here are some examples.
1. Tell stories using a timeline
Posting a story with a forward sequence is a simple but impressive strategy. Through a linear and clear narration, it is possible to capture the attention of the public, who will be pushed to watch the entire sequence. Provided the contents that are of quality and interest.
For example, if your publishing house is about to launch a new novel, you could think of a story with 4-5 videos in which the cover is shown and then additional information is given, such as the release in the bookstore or the pre-order.
2. Use Instagram Analytics for better results
While competitor analysis is always very useful, it can be difficult to understand what the audience likes until posting stories. If, for example, you notice that your users don't finish watching your sequences or come back, you might want to consider starting to publish shorter Stories.
In any case, we advise you to observe the statistics of your profile on Instagram Analytics constantly. Attention: the statistics are visible only by activating a business profile.
--- After 0.5 ---
--- After 0.5 ---
3. Use GIFs, stickers and hashtags
One way to create engagement and interaction with followers is to add GIFs, stickers, tags, and hashtags to the story. For example, you could post a photo tagging the venue and inserting a sticker with a song to advertise your band's next concert.
4. Brand your Instagram Stories videos
To be successful on Instagram, the stories must be uniform. In a word, brand. Doing this means working on the tone of voice, on the colors, on the graphic style. By doing this, you will be easily recognizable to your audience.
Create videos for Instagram Reels
Having landed on users' smartphones for a handful of months, Reels is Instagram's direct response to TikTok. With this new tool, the social network hopes to attract interest, especially in the very young, thanks to videos characterized by increasingly surprising effects. Here are the features a Reel video should have:
Format: MP4;
Length: 15-30 seconds;
Size: maximum 32MB;
Orientation: vertical, horizontal;
Aspect ratio: 9:16 if vertical, 16: 9 if horizontal.
How to use Instagram Reels?
At the moment, it is possible to use Reels only in the dedicated section within the Instagram app. Here are some of the effects available on Reels:
Audio: you can choose a song or effect from the Instagram library;
Effects and filters: select the most suitable filter to communicate your message;
Timer and Count-down: to record video without having to start the camera manually;
Align: To align the objects of the previous clip before recording the next one. Ideal for seamless transitions;
Speed: Choose the video or audio recording speed.
Tips for creating Instagram Reels videos
Reel represents a mine of opportunities for your brand. This feature allows you to reach an even higher audience. Reel' "Explore" function is based on an algorithm: this means that many more users can watch your videos and become potential customers. Here are some suggestions.
--- After 0.8 ---
--- After 0.8 ---
1. Show the true side of your brand
Users love to feel part of a community that goes beyond virtual reality. Your goal must be to convey concrete values that a potential customer can find in your products or services. A theme linked to the company's philosophy, which has made design furniture within everyone's reach.
2. Get your followers behind the scenes
Showing your creative process is a great way to empathize with your followers or new users. This approach intrigues and allows you to be original, highlighting your message. A simple but effective idea to communicate to the public that they believe in the product's effectiveness.
3. How-to videos
Thanks to Reel, you can show your users how to prepare a dish or use the functionality of a device in an easy, immediate and fun way. It may seem like a simple idea, yet the how- to videos are loved by users who don't have time to read a tutorial article and want to learn how to do something quickly.
Conclusion
Recording an Instagram Story is really simple and requires fewer steps than a video post. Even in this case, however, it is good to know some technical details. We've explained the tips for you to make a compelling Instagram video, now go for it.
--- After Content ---
--- After Content ---