Best E-scooter Apps in 2021 and their Features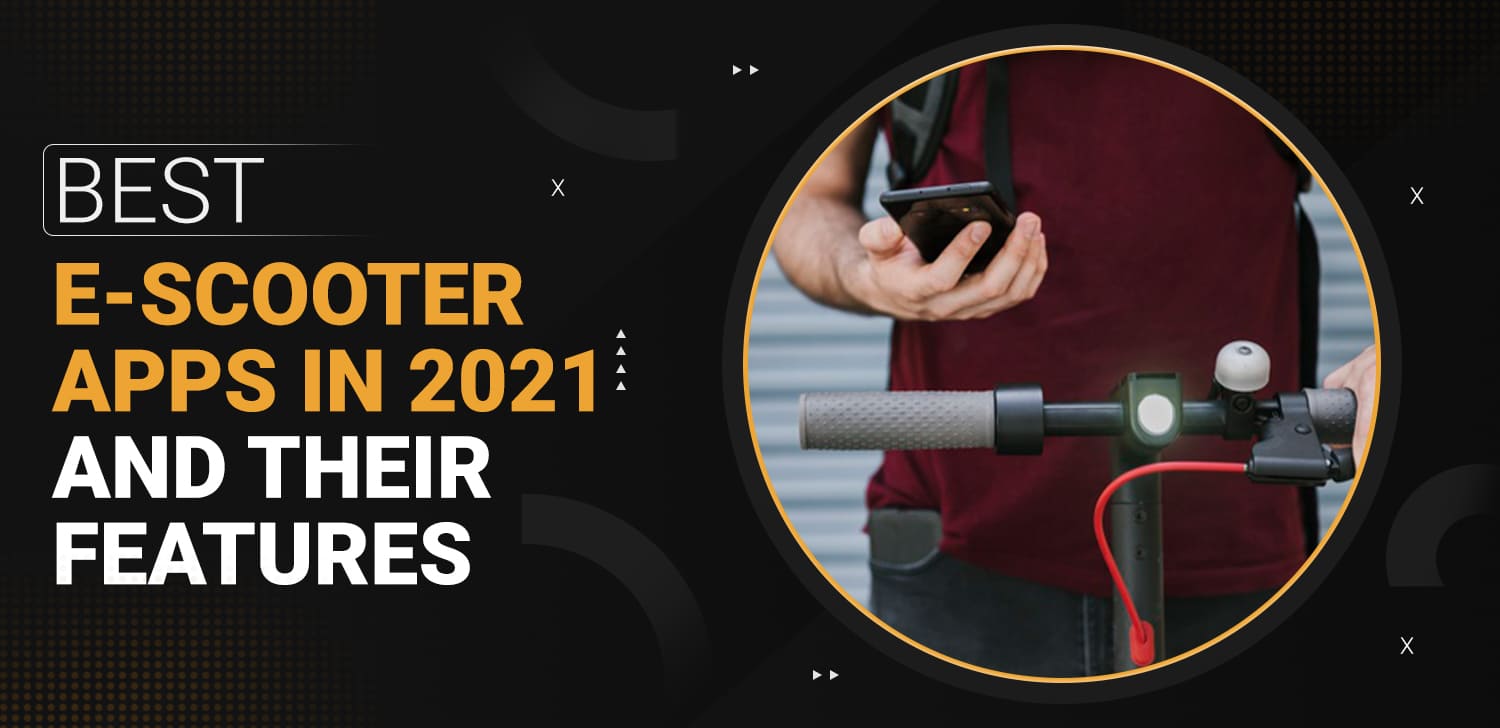 e-Scooters are incredibly popular in some developed cities globally, helping people avail an environment-friendly mode of transportation. Allowing drivers to cover small distances affordably, it is a popular choice among commuters going to activity classes, tuitions, or schools.
--- Before Para 1 ---
--- Before Para 1 ---
e-Scooter mobile applications are a fantastic way for these travelers to locate and book their rides in a few taps. Bridging the gap between consumers and businesses, these apps have gained quite popularity in the market.
Today, we are discussing seven e-scooter applications leading the market and taking the e-scooter ride-sharing industry by storm.
Let's begin!
1. Bird
The first one on our list is Bird. Available across iOS, Android, and Web, Bird gives you access to shared personal electronic vehicles (Scooters) that you can pick up or drop off anywhere. It offers services in over 100 cities of North America, Asia, and Europe, helping rides quickly locate and unlock e-scooters. Riders can avail of exceptional services with a base fare of $1 followed by a $0.15 per minute charge.
Some of the popular features of Bird include:
Maps to Find Nearby Scooter
Real-time GPS Tracking
QR Code Integration to Lock and Unlock
Payment Gateway Integration
Smart Lock
2. Lime
Lime offers one of the most acceptable alternatives for e-scooter applications in the United States, in addition to 150 cities globally. One can download the applications or visit the website to book rental services such as e-scooters, e-bikes, and cars. Based on the simple idea that all communities deserve access to innovative and affordable mobility, the Lime app tops the best e-Scooter services list. Its charges start at $1 for a 30-minute ride for bicycles, while the e-bikes and scooters cost $1 plus 15 cents per minute in the USA.
Some of the popular features of Lime include:
Reserve e-scooters to avail ride within 15 minutes
Secure payment gateway integration
Scan QR code or enter ID to unlock in seconds
Discover a nearby Lime-S (electric scooter)
3. Spin
Spin is also one of the popular e-scooter applications founded by Derrick Ko, Euwyn Poon, and Zaizhuang Cheng in 2017. Available across 19 cities in the United States, Spin boasts of offering high-quality scooters, a seamlessly mobile application, top-notch customer service, and, yes, cost-effective prices. Spin has received recognition for launching the first stationless mobility program in the US.
Some of the popular features of Spin include:
Maps to locate nearby e-scooters
Automatic free trips after saving payment details
QR code scanning to unlock the scooter
4. Goat
GOAT, a dockless scooter rental application, boasts of offering exemplary services to its users that help them experience their city in an environment-friendly manner. A locally owned and operated fleet of GOAT scooters are accessible across all the cities in America. Users can walk through a simple-to-use application, find a nearby GOAT and initiate the ride.
--- After 0.5 ---
--- After 0.5 ---
GOAT lets you easy to access cutting-edge features such as:
Locate nearby scooters in seconds using interactive maps
QR Code scanner to unlock the scooters
Reserve a scooter in advance with the schedule feature
Social media integration to get on board with your friends to ride together
5. Wind Mobility
The fifth one on our list of e-Scooter applications is WIND. The innovative dockless application offers e-scooters and bicycle rentals to help users cover short-distance urban trips. The app is seamless to use and requires no keys, cash, or cards to hop on your ride.
WIND's popular features include:
A quick search for nearby scooters
Single tap to unlock scooter with WIND app
Secure, easy payments
Lock the scooter when ending your ride
6. Scoot
Scoot is proud of making it easier for its users to cover short urban distances while following an eco-friendly way. Addressing their shared, electric, smartphone-activated vehicles as Scoot, it offers you a fast, affordable, and easy-to-use alternative to a car or bike ride. You can quickly locate nearby Scoots, even from other popular mobility options such Lime, Bird, VOI, Flash, Wind, Hive, Tier, UFO, JUMP, Bolt, etc. All you have to do is download the application, choose your favorite vehicle, locate it, unlock and ride.
Features that Scoot lovers like are:
--- After 0.8 ---
--- After 0.8 ---
Maps to locate nearby scoters
QR code to unlock and ride
Payment gateway integration
Real-time, GPS tracking
Smart lock to lock the scooters
7. Skip
Skip is one of the most affordable ride-sharing options that lets you locate nearby scooters and book them in advance. Users can easily unlock the scooters with QR code scanning and ride them at their convenience. Available across Washington DC, Arlington, and Alexandria, Skip aims to create a future with less traffic, noise, and pollution. With an over 4.8-star rating on iOS and Android, Skip is worth a try for users looking for last-minute transportation.
Popular features of Skip include:
Interactive maps to discover nearby e-scooters
Schedule rides in advance
Scan QR code to unlock scooters
Multiple methods to make payments via secure payment gateway integration
Social media integration
The Bottom Line
E-Scooter applications mentioned above are some of the most notable ones. However, the list doesn't end here. While users explore more options to find a seamless mode of transportation, investors are building upon the idea of the e-Scooter ride-sharing business and trying to thrive in the growing industry with e-scooter mobile app development. Can you think of any such options that we are missing? Let us know in the comments here.
--- After Content ---
--- After Content ---